Projected Player Salaries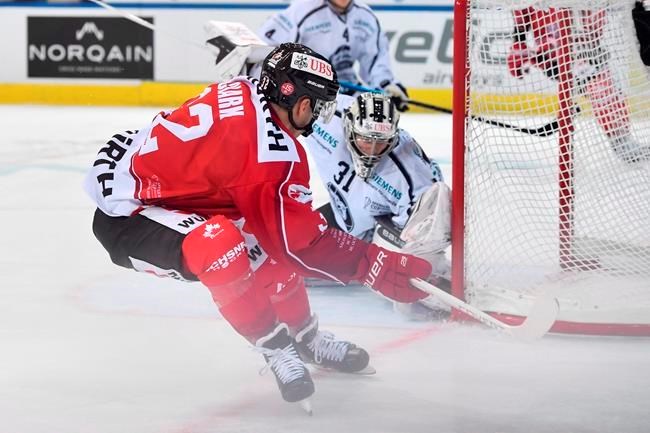 European Hockey Recruiting Agency
PROJECTED PLAYER SALARIES 2022 – 2023
| Country | League | Salary |
| --- | --- | --- |
| | | |
| | | |
| | | 80,000 – 290,000 Euro Tax Free |
| | | 20,000 – 75,000 Euro Tax Free |
| | | 40,000 – 275,000 Euro Tax Free |
| | | 20,000 – 60,000 Euro Tax Free |
| | | 12,000 – 55,000 Euro Tax Free |
| | | 40,000 – 155,000 Euro Tax Free |
| | | |
| | | 100,000 – 450,000 Swiss Tax Free |
| | | 35,000 – 75,000 Swiss Tax Free |
| | | |
| | | |
| | | |
| | | 12,000 – 40,000 British Pounds |
| | | 25,000 – 100,000 Euro Tax Free |
| | | 12,000 – 25,000 Euro Tax Free |
| | | 20,000 – 65,000 Euro Tax Free |
| | | 15,000 – 35,000 Euro Tax Free |
| | | 35,000 – 200,000 USD Tax Free |
| | | |
| | | 15,000 – 65,000 Euro Tax Free |
| | | |
| | | |
1.6 million in the KHL is for a limited amount of players 200,000 in the Asia League is for only one or two players
275,000 in the DEL1 is also for a select few players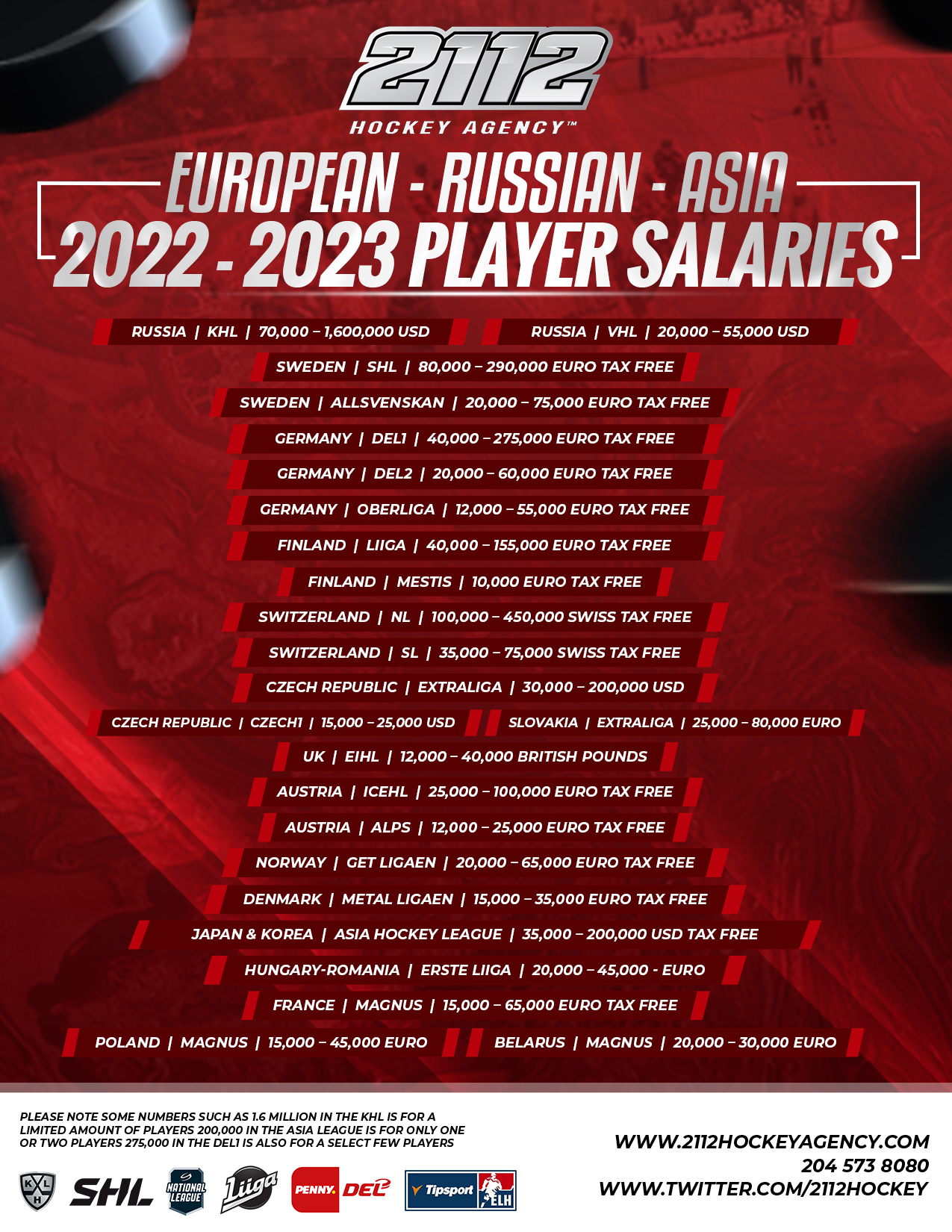 Are you interested in playing hockey in Europe? If you are looking for an exciting opportunity for travel and want to keep playing the sport that you love, contact 2112 Hockey Agency. Our European hockey agency is looking for great players that want to try branching out into the European hockey scene.
Many different opportunities exist for hockey players that want to play in Europe, but you may not be able to find them alone.
Our Many Services
Several different aspects need to be handled in order to play for a European hockey team. Some of the services that our European hockey recruiting agency can assist you with include:
Player placement services. We want to ensure that you play for a team that will match your skillset and will help you grow as a player. With our extensive knowledge of European hockey teams, we can help you find the right team for you.
Marketing. How do European teams learn that you are a great match for them without proper marketing? Our team works hard to get your name out there.
Immigration assistance. Each country has its own set of immigration laws and necessary paperwork. 2112 Hockey Agency can assist you with all of the proper legal paperwork.
Financial recommendations. Hockey gear and equipment aren't cheap—not to mention the cost of living. Our experienced team can help you with financial recommendations to prepare you for your life in Europe.
If you have any other questions about living in Europe while playing hockey or the cultural differences that you may face while you're there, please visit our FAQ page dedicated to living in Europe.
Our team has a lot of experience working with hockey players from various parts of the world and we want to help you live your hockey dreams. If you've got what it takes to be a great hockey player, get in contact with us at dwolski@2112hockeyagency.com to begin the process.